One of the most important and often overlooked parts of opening a business is the storefront design. When properly executed, a storefront should create an environment where people want to linger, shop and return, which in turn generates more sales for your store. Plainfield businesses should consider the elimination of security grilles; using flower pots and street furniture; changing to new glass and doors; and using attractive signage and lighting when considering upgrading a storefront. The City of Plainfield has rules in place that govern the placement and appearance of signs. Different types of signs have different regulations. Businesses have many options for signs and should create a strong, creative identity for their store. This following information will help you put together an effective storefront within the guidelines of the local regulations. Your goal should be to make your business blend in with the surroundings and improve the area while respectfully and attractively drawing attention to your storefront. This balance and harmony between private enterprise and street aesthetics should be steadily improved overtime.
If you haven't already, check out the city's Design Guidelines for Historic Districts and Sites (pages 41-42 apply to commercial districts) and the UEZ Design Guidelines. The Design Guidelines offer an excellent start to understanding historic preservation and appropriately working with your building's architecture to improve the look of your store. The most important rule to remember in storefront design is to keep it simple and to let the natural architectural elements of your building and storefront speak clearly. Let's first look at some of the different components of the storefront so you know where you can make improvements.
Your business's sign should be the centerpiece in drawing attention to your storefront, and is one of the most cost-effective ways of doing so. Store owners must understand the importance of using signs that take into consideration the point of view of the pedestrian and the scale of the building. According to New York's Office of Small Businesses Services, though it may surprise you, by keeping things simple the sign will get more attention, not less. Studies have shown that people quickly reach a visual saturation point – if there is too much visual clutter, people shut down and ignore all of the signs around them.
Another thing to keep in mind is a bigger sign is not always better. Oftentimes small, high-quality signs that use unique materials is all it takes to stand out and have people want to visit your establishment. Your sign should be unique. Try to stay away from basic white vinyl backing for its poor aesthetic value and detraction from your buildings architectural appearance. Plainfield permits three types of signs downtown, wall signs awning signs and projection signs. Wall signs are signs that are mounted on either a flat backing or directly on the building. Plainfield allows for wall signs to be "indirectly illuminated," meaning they cannot be lit on the inside, such as "gooseneck" or "halo" lighting. All wall signs must be flush-mounted against the building and cannot hang off the facade or protrude more than 6" from the building. Frame box signs are not permitted in Plainfield and detract from your storefront's architecture.
Projection signs are seldom found Downtown, but have immense value for businesses that want a clean, modest sign that has a large impact. Projection signs target pedestrians parallel to the storefront by coming out perpendicularly from your building to inform the passerby of your store and draw them inside.
The Downtown sign code regulations can be found in their entirety in Section 17:9-51 of the Land Use Ordinance. All of the Transit Oriented Development Downtown (TODD) zones (most of downtown) use the "Central Business District" sign standards.
Below are some examples of signs that businesses can use that utilize the building's architecture appropriately:
Awnings can be used to draw attention to your storefront and enhance your building's architectural details. An awning should compliment your sign in both colors, materials, and any wording printed on the awning face.
Tip: Canvas and cloth awnings may be more expensive, but the quality and classic look that it gives your business will more than pay for itself with increased customers!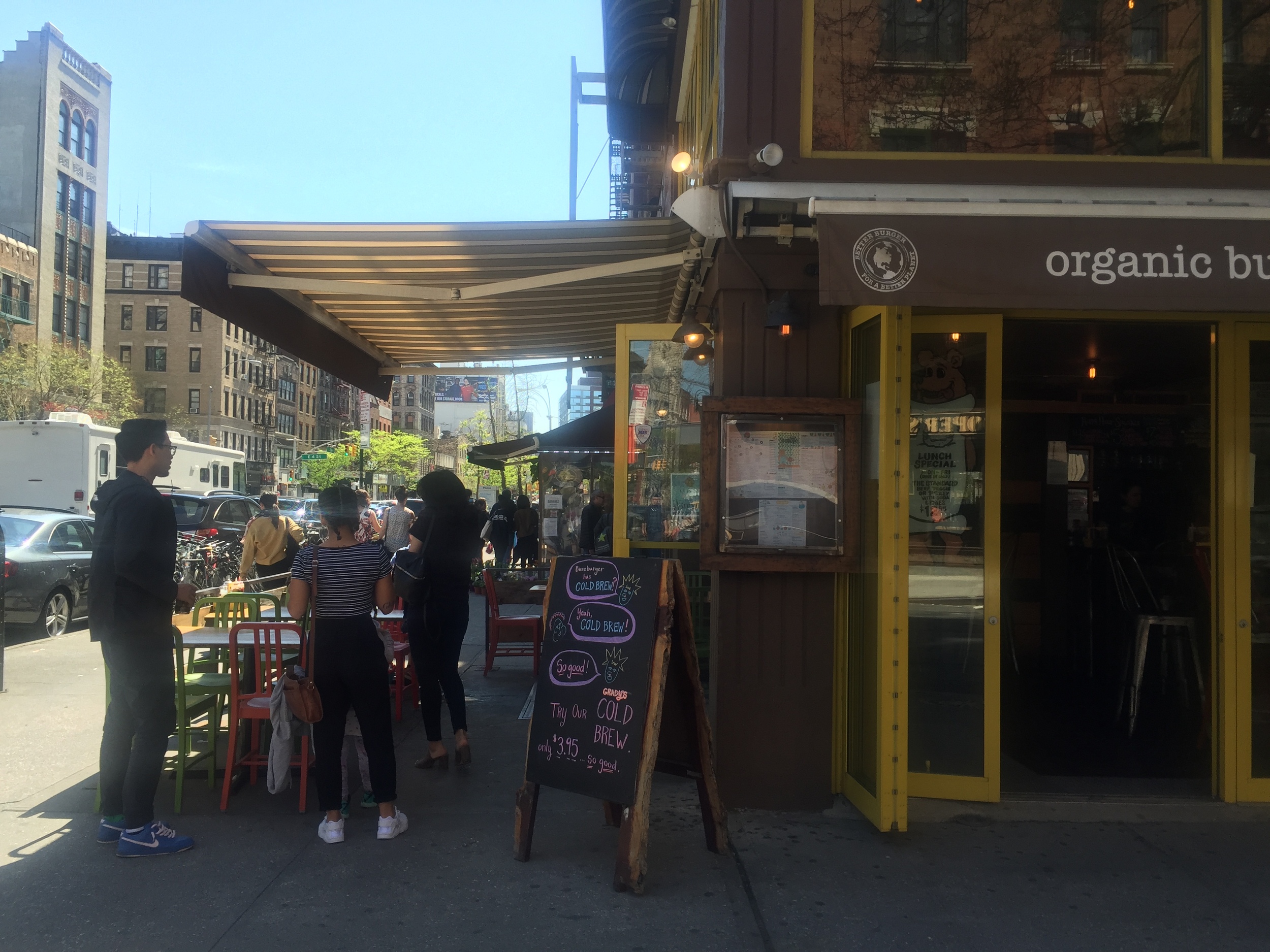 Color
The colors that you use on your sign and awning should coincide with your building trim color to have a wholesome look. Using one distinctive color can catch eyes at first glance and keeps with the theme of being simple. At minimum, you should have your storefront trim re-painted at move-in and every few years to stay looking your best for potential customers.
Street Furniture
Use street furniture, such as potted plants, to take your business outside the storefront. If your business is a restaurant ask the city how you can use decorative chairs, tables and umbrellas on the sidewalk to take your business outside the storefront. Although it can be an additional hassle getting the proper permissions to do this from the city, the value of doing so is immense. According to the Center City District & Central Philadelphia Development Corporation, outdoor seating attracts more patrons by blurring the boundary between inside and out, expands seating capacity for businesses, enhances safety by adding more "eyes on the street" and reinforces the image of a thriving downtown. The increased use of wireless technology also facilitates working or networking socially while sitting outside. All Plainfield restaurants should consider using outside dining to make the biggest splash you can and turn heads. Also, the use of planters at the front entrance and window boxes can dramatically enhance your storefront with minimal investment.
Security
You should always try to use invisible security systems (alarms, shatterproof glass) instead of metal doors and gates. Metal doors and gates make an area appear less safe and deters potential customers - and that's the last thing you want to do! Using alarm systems and shatterproof glass keeps your storefront looking good and still offers 24-hour protection. The city strongly recommends all metal doors and gates to be removed. Studies have shown that metal grilles take away from the aesthetics of your business, building and neighborhood and decreases property values. This has caused other cities such as New York to pass sweeping legislation to ban all metal doors and gates. If you choose to keep the metal doors, the Plainfield UEZ Guidelines requires all metal doors and gates to be at least 60% see-through for police and fire safety. Open-link gates are also good because they offer 24/7 visibility of merchandise even when you're closed.
One should also place emphasis on the gate box that the metal door rolls up and into. If your business decides to keep the metal gates (again, it's strongly recommended that you remove them), you should try your absolute best to hide them. Be creative. Many people choose to hide them by mounting the awning over the gate box to make them less easily seen. Another option is the mounting of the metal gates on the interior of the storefront windows in order to hide the gate box from the exterior. This method may not be able to protect the glass windows/doors, but it will protect the merchandise behind the gates.
Historic Preservation
Historic Preservation is at the heart of our community, and should be at the heart of your exterior renovation including signage, facade, windows, doors, and lighting. Businesses proposing any of these improvements and are located in the North Avenue Historic District or a designated historic structure must go before the Plainfield Historic Preservation Commission for approval prior to making the proposed changes. Make sure you plan accordingly, as this process can take time. When making improvements, be sure to choose materials that add value to your historic structure. Wood doors and windows are requirements for historic districts.
Tip: Small, minimalist signs (i.e. individual lettering, projecting signs) that match the trim of your building, mounted uniform with surrounding buildings, and combined with ambient lighting can be an easy (and cost effective!) way of easily keeping your historic building's looks.
Lighting
Plainfield does not permit LED or neon signage or accents in the windows. LED and neon lighting may draw attention to your storefront, but it can also detract from your building's clean and historic look. Try lighting that's more ambient and background. The interior of the store should be the brightest lighting on your storefront in order to let customers know you're open and make your merchandise visible from the street. Usage of halo lighting on your sign and accent lighting on your building to highlight the architectural features are highly recommended.
Window Signs
You should also stay away from using signs that indicate everything you sell. The point of window signs is to draw people into the store from the street and announcing temporary sales your store may be having. Full menus and photos of the food that your restaurant serves should always be avoided as it won't be visible to people driving past and instead blocks people from being able to see inside. This also reduces your face-to-face time with your customer as they won't likely inquire within or ask you for recommendations if the menu is plastered on the front window. Instead, reserve your window space to advertise promotional items and an occasional sale to draw people inside. When starting your business and advertising, ask yourself questions like, "Will people know what my business sells?" and "If I advertise this deal, will people want to come in and shop?". An attractive window sign should relay basic information to draw people in and not be overcrowded. All window signs should be current, in good condition and conforming to the city's Land Use Ordinance and Property Maintenance Code. All window signs require a zoning permit. Window signs cannot cover more than 25% of the total window area and there are various limitations on what can be printed on the sign. Consult with the Zoning Officer prior to purchasing any window signage.
Displays
Your display is the heart and soul of the entire storefront and is the most important aspect. You must get this part right. One of the worst mistakes a business can make is to stack merchandise in the front windows, blocking the view into your store and therefore wasting your storefront window space. Not only does it make the storefront look messy but it's also against the Plainfield Property Maintenance Code. A good display should show your establishment's finest merchandise, be well lit, and entice shoppers to come in and buy. By selecting only a few of your best items and using mannequins and other display furniture, the storefront looks orderly and attractive. This is also the time to be creative! Complete the look by complimenting your exterior improvements with holiday decorations and accent lighting.
Facade Improvement
Perhaps the most visually impactful and most comprehensive improvement one can make is the exterior facade. It's important to take into account the historical details of your building when making facade improvements. Always try to preserve old details, such as the cornices, doors, brick, and wood windows. Do not fill or block the upper windows of your building, and keep the original trim and details of the windows. You should also avoid placing the air conditioner in the window space above the entrance, as the air conditioner causes condensation to drop down on your customers and makes your store look unsightly.
Need money for improvements to the exterior facade? Luckily the entire downtown is located within the city's Urban Enterprise Zone (UEZ), which means Sign & Facade Grant funds are available for your business to do exterior improvements. The city will reimburse 75% of the total cost of renovation up to $25,000. Businesses would have to be registered for the UEZ in order to apply for the funds. The City's Economic Development Office administers the Sign & Facade grant funding. Visit the Economic Development Office to find out more about the program.
Support Local Business! Downtown Plainfield Has Two Sign Manufacturers Located Within It's Boundaries:
Richie's One Hour Photo
314 Park Avenue
908-769-5282